General disclosures
The publisher of this Sustainability Report is Alpiq Holding Ltd.
Activities, brands, products and services
Alpiq is a leading Swiss energy company that is active in various countries and markets throughout Europe. Our energy business contributes to a better climate and improves the security of supply in Switzerland and for our customers on the European markets. We pursue a sustainable, financially sound and risk-adjusted business model.
Alpiq's core business is the production of electricity from flexible CO2-free hydropower and nuclear power in Switzerland as well as from wind power and photovoltaics in several European countries. In addition, we operate modern and flexible gas-fired combined-cycle power plants in Italy, Spain and Hungary. By producing green hydrogen, we are pioneers in contributing to CO2-free heavy-duty traffic and are continuously expanding our competence.
Our core business also comprises energy trading. We sell production from our own plants as well as third-party plants on our modern and efficient trading platform. Alpiq trades with electricity, gas and other energy products in many European countries. A sustainable and cost-effective energy procurement strategy is an important aspect of any business. Our Sales & Origination team supports industrial and business customers with sustainable energy management as well as a wide range of energy solutions and services.
The head office of Alpiq Holding Ltd. is located in Lausanne.
The exact address is: Chemin de Mornex 10, 1003 Lausanne, Switzerland
Alpiq's roots are in Switzerland. The head office of the parent company Alpiq Holding Ltd. is in Lausanne; other key locations in Switzerland are Olten and Sion. Alpiq operates its own power plants in Switzerland, Italy, France, Spain, Hungary and Bulgaria.
You will find an overview of the countries in which Alpiq is active in the section 'About us' in the Alpiq Holding Ltd. Annual Report 2021.
Ownership structure and legal form
The ownership structure of the parent company Alpiq Holding Ltd., with registered office in Lausanne, is shown in the Alpiq Holding Ltd. Annual Report 2021 in the Corporate Governance section under 'Group and shareholder structure'.
Alpiq operates in energy trading and sales as well as energy services in many European countries through a subsidiary – and offers its products and services largely to industrial and corporate customers. In France, Alpiq has also been active in retail business for electricity customers since 2021.
You will find an overview of the supplied markets (countries) in the Alpiq Holding Ltd. Annual Report 2021 in the Annual Review section under 'About us'.
Current figures on the number of employees, turnover and balance sheet for the year 2021 (as at 31 December 2021) are shown in detail in the Alpiq Holding Ltd. Annual Report 2021 in the Annual Review section under 'Key Financial Figures'.
Information on employees and other staff
As at 31 December 2021, Alpiq employs 1,265.6 people (calculated in full-time equivalents, FTE, and including apprentices) on a permanent basis. These full-time positions were shared by 1,331 people or 361 women and 970 men. Alpiq employs 746 people in Switzerland and 576 people abroad.
Number of employees with permanent employment status by gender and year in Switzerland and abroad:
 

 

 

 

 

 

 

 

Group

Switzerland

Foreign

Number of full-time employees

2020

2021

2020

2021

2020

2021

Women

 

 

 

 

 

 

Part-time

78.2

71.3

61.2

56.1

17.0

15.2

Full-time

235.0

245.4

108.0

109.7

127.0

135.7

Men

 

 

 

 

 

 

Part-time

40.2

40.7

36.0

36.6

4.2

4.1

Full-time

905.2

908.2

499.0

498.3

406.0

409.9

Total

1,258.4

1,265.6

704.2

700.7

554.2

564.9
Full-time >= 90 %
Part-time <90 %
The data refer to employees, including apprentices, of the entire Alpiq Group. Employees without an Alpiq employment contract are not listed. Information on this personnel data for the entire Alpiq Group is managed centrally in the personnel system and is available at all times.
As at 31 December 2021, Alpiq employed people from 54 different nations (previous year: 51 nations). The age structure is balanced: 52 % of employees are aged between 35 and 50; 24 % are younger than 35; and 24 % are older than 51. In the previous year, 53 % were between 35 and 50 years old; 26 % under 35; and 21 % older than 51.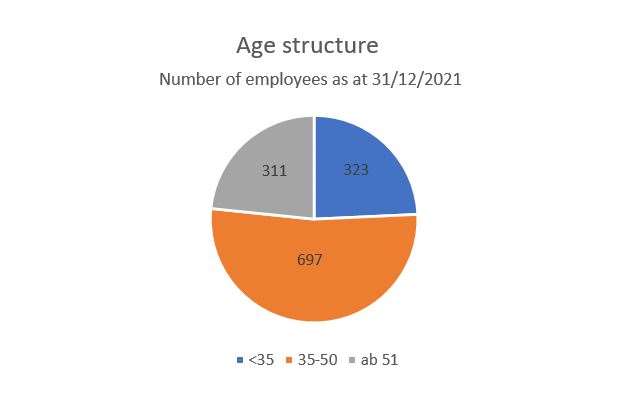 The proportion of women in the company at the end of 2021 was as follows: 40 % were members of the Executive Board (2020: 0 %); 6.4 % were in top management (directly subordinate to the Executive Board; 2020: 3.8 %); and 25.5 % were employees (2020: 25.4 %).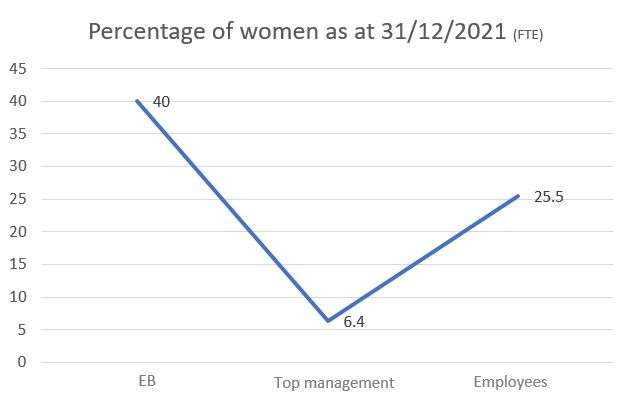 The topic of diversity and inclusion will be addressed in a focused and holistic manner in 2022. In this respect, Alpiq will not only focus on gender distribution, but will also take age, nationality, etc. into account. Existing initiatives will be attached to an overarching narrative developed with our employees. These workshops with employees will also provide an unobstructed view of the organisation: What are the issues around diversity and inclusion that employees generally feel are important? Where is action needed? What measures would be useful? And what are the expectations in the first place? The answers will provide possible ways in which to take further action.
The general terms and conditions per business unit as well as the code of conduct for suppliers are described on the Alpiq website.
Significant changes in the organisation and its supply chains
Changes to the organisation are presented in the Notes to the Financial Report in the Alpiq Holding Ltd. Annual Report 2021.
There were no significant changes to the supply chain disclosures (GRI 102-9) in the reporting year.
Precautionary approach or precautionary principle
Alpiq takes a preventive approach in its activities to protect people and the environment.
As shareholder of nuclear power plants in Switzerland, Alpiq must comply with the regulations of the Swiss Federal Nuclear Safety Inspectorate (Eidgenössisches Nuklearsicherheitsinspektorat – ENSI). In addition, compliance with the safety standards of the International Atomic Energy Agency (IAEA) is ensured and a peer review by the World Association of Nuclear Operators (WANO) takes place regularly.
Alpiq has a share in numerous hydropower plants in Switzerland, particularly storage power plants. Strict monitoring of the associated dams and clear processes ensure the safety of people and goods. Regular checks are carried out to determine whether the dams can withstand earthquakes and floods with a likelihood of occurrence of more than once every 10,000 years. This is in accordance with the Swiss Law on the Supervision and Safety of Water Retaining Facilities (WRFA); tasks and findings of the various stakeholders are subject to strict supervision by the Swiss Federal Office of Energy (SFOE).
As a company operating throughout Europe, Alpiq complies with locally applicable regulations and laws in all countries to ensure the health and well-being of people and to protect the environment.
Detailed information on Alpiq's precautionary measures can be found in the sections Environmental compliance, Occupational health and safety and Nuclear energy of this Sustainability Report. An overview of Alpiq's other risk management activities is included in section 3.1. Financial Risk Management of the Alpiq Holding Ltd. Annual Report 2021.
Alpiq places great importance on certifications at power plant, country and group level, thereby ensuring that certain management system standards are met. Within the Alpiq Group, ISO 9001 (Quality), ISO 14001 (Environment), ISO 27001 (Information Security) and ISO 45001 Occupational Safety) certifications have been obtained.
Alpiq was the first electricity producer in Europe to receive ISO 55001 (Asset Management) certification. All large hydropower plants are certified according to ISO 14001; they produce electricity from 100 % renewable sources.
In addition to the certifications, Alpiq applies the International Financial Reporting Standard (IFRS).
Membership in associations and interest groups
Alpiq's most important memberships in associations and interest groups that are relevant to the business include:
| | | |
| --- | --- | --- |
|   |   |   |
|   |   |   |
| Association | Nature of the membership | Country |
| Economiesuisse | Management board, membership | CH |
| Energy Certificate System (ECS) | Co-presidency and member of working groups | CH |
| Nuclear Forum | Management board, membership | CH |
| Suisse Eole | Management board, membership | CH |
| Swiss Small Hydro | Membership | CH |
| Swisscleantech | Membership | CH |
| Swissnuclear | Management Board, Membership | CH |
| Swisssolar | Membership | CH |
| Swiss Water Management Association (SWV) | Membership | CH |
| Association of Swiss Electricity Companies (VSE) | Management board, membership, working groups; the President of the association, Michael Wider, is a member of the Alpiq Executive Board | CH |
| Association for Environmentally Sound Energy (VUE) | Membership | CH |
| WeAdvance | Membership | CH |
|   |   |   |
| Eurelectric | Swiss membership via the VSE, working groups | EU |
| European Energy Certificate System (EECS) | Membership of Switzerland via Pronovo AG | EU |
| European Federation of Energy Traders (EFET) | Membership, working groups | EU |
| RECS International | Membership | EU |
|   |   |   |
| Bundesverband der Energie- und Wasserwirtschaft (BDEW) | Membership, working groups | DE |
|   |   |   |
| France Energie Eolienne (FEE) | Membership | FR |
| France Hydrogène | Membership | FR |
|   |   |   |
| Associazione Italiana di Grossisti di Energia e Trader (AIGET) | Membership | IT |
| Associazione Nazionale Energia del Vento (ANEV) | Membership | IT |
| Elettricità Futura | Membership | IT |
| energia libera | Membership | IT |